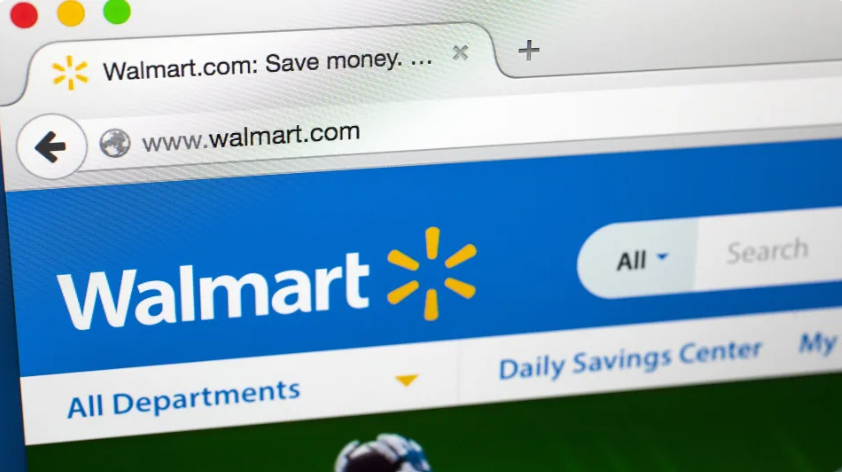 To scale your business, you should look to the brick-and-mortar and e-commerce behemoths. Getting your products in front of Walmart buyers, whether online at Walmart.com or in Walmart shops, is one way to do this. Applying to be a Walmart Marketplace vendor is one option to expedite the process and start earning money from product sales.
What Is Walmart Marketplace?
Walmart Marketplace is an online marketplace where third-party retailers can sell their wares alongside Walmart's own. Have you ever purchased something from eBay or a third-party vendor on Amazon? The same is true for Walmart Marketplace.
Walmart Marketplace has assisted several vendors in getting their items in front of Walmart customers since 2009. You may broaden your reach and use world-class online selling tools as a marketplace seller. You'll also become acquainted with Walmart's processes, which makes this an excellent initial step toward getting your products into Walmart stores.
Why Sell on Walmart Marketplace?
Consumers adore online markets, according to the study. According to a Mirakl poll, 70% of shoppers choose third-party marketplaces for their goods selection, pricing, and delivery options. Consumers who are short on time prefer one-stop shopping, which Walmart Marketplace provides.
Selling on Walmart Marketplace also provides benefits and prospects for your company:
A well-known internet destination, Walmart.com receives hundreds of millions of visitors each year. Your goods will be on a website that already receives a ton of traffic, saving you the effort of having to draw customers to your own..
Establishing a track record on the Walmart Marketplace provides benefits as you move to sell products inside their physical stores.
Sellers on marketplaces profit from excellent analytics. You can utilize this information to make your business procedures better.
You will benefit from cutting-edge systems and security. You won't have to get out of bed in the middle of the night because a hacker has taken over your website. When it comes to fraudulent transactions, you'll have less to worry about. Customers will not have to worry with broken links or error notifications.
Marketplace provides a quick, easy way to sell your goods to Walmart, with the potential to develop into a full-fledged supplier in the future.
Qualifications Required for Selling on Walmart Marketplace
Even though Walmart is ready to collaborate with third-party vendors through its online marketplace, the business is also concerned about protecting its brand and reputation. This means that any company that wishes to participate in the program must meet a few fundamental requirements:
You must have a legal business in the United States with your own name, address, tax identification number, and licensing. Furthermore, your information must match what you've already submitted to the IRS. Matching information may result in faster acceptance by Walmart.
Any products you sell must not be in violation of Walmart's Prohibited Products Policy and must have GTIN/UPC GS1 Company Prefix Numbers.
Orders must be fulfilled through Walmart Fulfillment Services (WFS) or a B2C US warehouse that accepts returns.
You'll need to demonstrate that your company has already had success selling online. This might be accomplished through another marketplace or e-commerce platform.
Walmart is very particular about these details, so if your operations aren't quite there yet, take a step back, make the necessary investments in paperwork and infrastructure, and then submit an application to join the Marketplace.
How to Sell on Walmart Marketplace
Applying to become a vendor is the first step in selling on Walmart Marketplace. Set aside some time to finish the online application after studying the fundamental requirements for becoming a seller.
Step 1: Prepare Your Documentation
To begin, you need to provide the following:
Your business tax ID.
A W9 or W8 and EIN Verification Letter from the Department of Treasury.
Along with your main product categories and SKU numbers, you should be prepared to outline the integration strategy you'll employ when submitting your catalog to Marketplace.
Step 2: Complete the Application
To start the process to become a vendor, visit marketplace.walmart.com, click "Request to Sell," and fill in all the required fields.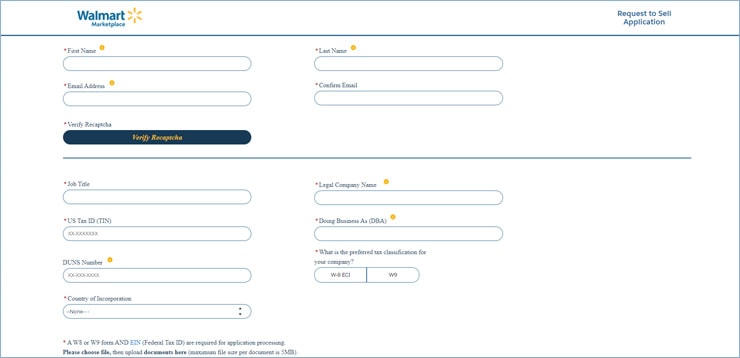 Click "Save" at the bottom as you complete each section. Be sure to double-check each section for errors. Inaccurate information can slow down the approval process. When you're ready, click "Apply Now." You will then receive an email when you are approved for a Walmart seller account.
Step 2: Complete Your Registration
Follow the unique link in your approval email (subject line: "Your Account has been created in Walmart Marketplace") to create your Partner Profile. The Registration Wizard will walk you through five main sections: Account Creation, Partner Registration, Taxes (W-9), and Shipping Info.

SUGGESTION: have a digital copy of your latest W-9 form (or download a blank W-9 during Registration).
After Walmart has approved your application, you must register your account. What you must do is as follows:
Create your account by entering a username and password.
Review and sign the Walmart Retailer Agreement.
Provide your company registration information, which includes your display name and corporate address.
Fill out a W-9 tax form.
Walmart will send you payments through one of two payment processors, Payoneer and Hyperwallet. You'll have to select one and set up your account.
You must select the shipping methods that you'll use to deliver your products to customers. You'll also provide your shipping rates along with the days and times that your goods will ship
The majority of the registration process is simple. Just make sure to double-check your entries to ensure they are correct.
Step 3: Complete Partner Profile
After your account has been created, you will have access to the Seller Center. Here, you'll find a "Launch Checklist" that outlines the next several requirements before you can launch your account.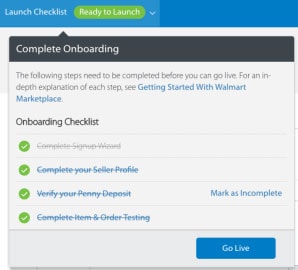 You should finish your Partner Profile as the first thing on your list. Customers can learn more about you (including your company name, description, logo, company policies, tax information, and more) on a public page called your Partner Profile.
As soon as your Partner Profile is finished, the Launch Checklist step will be automatically checked off when the "profile readiness for launch" progress bar reaches 100%.
Step 4: Complete Item Setup
The most time-consuming step in setting up your account is item setup for Walmart Marketplace, which makes sense given that this is where you enter all of your content (images, videos, long and short descriptions, attributes, etc.).
After filling out all required fields, "Validate Fields." Correct any highlighted fields, and then upload your file to the Seller Center.
Once completed, the items in your Seller Center will be moved to Active status.
Step 5: Test Items and Orders
Select "Preview Item" in the Seller Center to check the content and prices of any Active items. As your customers will see this, make sure everything is in order.
To test orders, update your item inventory to 1.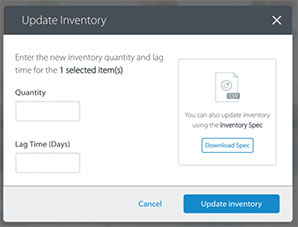 Click the Update Inventory button, then in your Seller Center, click "Publish Item" and "Purchase Item."
Step 6: Launch Your Account
Creating your account and starting to sell on Walmart Marketplace is the last step. A pop-up message will prompt you to confirm that you are prepared to launch after you have "marked as done" every item on your Walmart Launch Checklist in Seller Center. Choosing "confirm" will cause a launch request to be sent.
If everything checks out, the Walmart Marketplace integration team will approve your profile, and within 24 hours your products will be available on Walmart.com.
Tools to Help You Grow on Walmart Marketplace
Walmart is a huge business, and its online marketplace is sizable as well! Fortunately, as a new vendor, you don't have to go it alone. There are several tools at your disposal to help your business. Some of the most crucial are listed below:
Walmart Fulfillment Services (WFS): While you can work with a B2C warehouse of your choice, Walmart has a ready-made, end-to-end option for you and your business.
Walmart Connect: Joining Walmart Marketplace is a fantastic way to get your products in front of consumers. You can enhance this exposure by purchasing sponsored advertising through Walmart Connect. Your promoted product listings and brands get increased visibility, which means increased sales!
Walmart Brand Portal: Concerned about protecting your intellectual property throughout Walmart Marketplace? The Walmart Brand Portal has your back. This program offers streamlined IP claim management that allows you to spend more time on your business and less time tracking violations.
Walmart Dashboards: The back end of Walmart Marketplace allows suppliers to manage their products and monitor their sales. The listing quality dashboard uses an algorithm that assesses your listing. This allows you to make the changes necessary to maximize engagement and sales. The unpublished items dashboard is another critical tool: If there is something wrong with one of your listings, Walmart will unpublish it from the marketplace. You can use the information on the dashboard to make changes needed to get it into compliance with Walmart's standards.
Expedited Shipping Options: Shipping matters to e-commerce shoppers. Some are more concerned about shipping speed while others are focused on keeping costs down. Being able to offer choices, such as expedited shipping, can increase your chances of making a sale. Walmart provides expedited shipping options for suppliers that use WFS or another B2C solution.
New suppliers are encouraged to spend time researching the Walmart Marketplace tools. They can help to secure your success on the platform while saving you time and money.