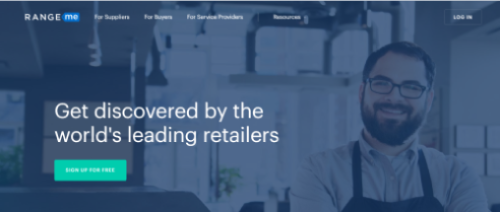 Overview of RangeMe: How It's Used
The goal of most retail suppliers is to get their products into as many retailers as possible. Larger retailers offer more "doors", so obviously thousands of new suppliers are clamoring to get introductions to the larger players. Conversely, the major retailers are challenged by the sheer volume of suppliers reaching out to them. For certain industries, RangeMe has become the online platform that helps with these connections by acting as a centralized hub where suppliers can showcase their brands and products.
There are many large retailers (Petco, Walmart, Tesco, ASAP, BestBuy, Ulta, etc..) who automatically direct prospective sellers to establish a "free" account on RangeMe. It is important to note that establishing an account and digitally showcasing your products on the platform WILL NOT alone get your products discovered. In the same fashion that retailers all use standardized barcode identifiers (i.e. UPC/GTIN), many of these buying departments like a common platform to view information on a brand and its products.
Due to RangeMe's broad promises of product discovery, there are tons of negative reviews and comments about this service. The article will highlight the basics of how suppliers can best benefit from RangeMe and provide an objective analysis of its advantages and disadvantages.
The Basics
RangeMe provides every company the ability to sign up for free and create a profile for their business. Suppliers can provide information about their company, product offerings, pricing, and relevant certifications. Their interface is moderately straightforward and includes many fields aimed at addressing prospective buyers' concerns. It is important to note that fields look to address aspects pertinent to food/grocery and pet industry retailers. It is important to note that apparel suppliers might not see how RangeMe would be applicable to their needs. There is a dedicated help section that companies can use for direction.
Immediately after a company establishes its brand profile and submits its detailed product information, RangeMe associates begin to reach out via phone and email. The introductory call is to help clients with any completion issues they might have (Good Thing) and they also start their push to have you upgrade your account (Not So Good). There is a good chance they might rely on overseas support representatives based on their mannerisms and availability. Users can opt out of their outreach and maintain their listings by themselves.
After Brand & Product Data is Entered – The Hard Sell
RangeMe does not make its money by providing "free" accounts so they have paid subscription programs offering suppliers enticing services to help them reach new trading partners and grow their business. Aside from the phone outreach, their dashboard displays broad retail offerings by upgrading to a premium package. The biggest criticism of RangeMe is from the companies that jumped into a premium package fully expecting to receive bona fide connections.
Due to ever-changing pricing structures and promotions, the pricing of the Premium and Pro subscriptions might actually vary. As described below, there are some powerful tools suppliers can use to manage their outreach.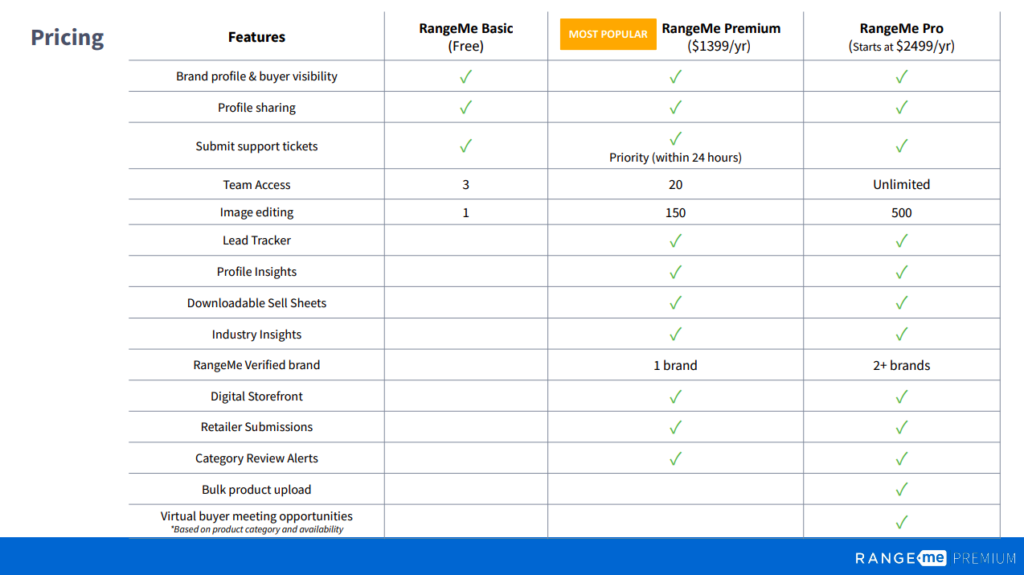 FAQ: Why Do Some Retailers Require RangeMe Listings for Prospective Suppliers?
Aside from being a standardized way to view prospective brands and items, it is cost-free for retailers. There is obvious value to them having a single platform to review offerings and communicate. One component of the premium subscriptions is the "RangeMe Verified" aspect which is similar in concept to the verified mark on Twitter. It adds confidence to the information provided.
RangeMe, like many other organizations, dangles the word "discovery" in front of suppliers to touch upon great potential opportunities. GS1 US does the same with its Data Hub tool by promising trading partner discovery and that is not how things actually work. In reality, retail buyers do not have the time to search through platforms and commonly hire brokers to assist with particular product needs. There is no actual downside for a retailer to promote listings on RangeMe since there is no investment on their part and the promises RangeMe conveys to prospective suppliers are very enticing.
---
Pros of RangeMe
Enhanced Visibility and Access to Retailers
RangeMe allows suppliers to showcase their products to a wide range of retail buyers. With its extensive network of over 175,000 retail buyers from various industries, RangeMe increases the visibility of products, making it easier for retailers to discover new and innovative offerings. This exposure can be invaluable for small and emerging brands seeking to break into larger markets.
Efficient and Streamlined Product Discovery
Traditionally, the product discovery process involved time-consuming emails, phone calls, and trade shows. RangeMe simplifies this process by providing a centralized platform where suppliers can create comprehensive profiles and showcase their products organizationally. This enables retailers to easily search and filter products based on specific criteria, saving time and effort for both parties.
Targeted Reach and Relevant Matches
One of RangeMe's key strengths is its ability to connect suppliers with retailers looking for products in their specific categories. The platform uses advanced algorithms to match suppliers with relevant retail buyers based on product type, industry, and geographic location. This targeted approach increases the likelihood of successful collaborations, leading to better conversion rates and improved business outcomes.
Data-Driven Insights and Analytics
RangeMe provides suppliers with valuable data and insights regarding buyer interactions with their product profiles. These analytics offer detailed information about the number of views, saves, and rejections received, enabling suppliers to refine their offerings and make data-driven decisions. The platform's analytics tools also allow suppliers to track their products' performance and measure their marketing efforts' impact.
Cons of RangeMe
Increased Competition & Oversaturation
While RangeMe provides increased visibility, it also means that suppliers face heightened competition from other brands from the U.S. and worldwide, vying for the attention of the same retail buyers. The platform's popularity has led to a large influx of products, making it more challenging for individual suppliers to stand out. This requires suppliers to invest additional time and effort in creating compelling product profiles and marketing strategies to differentiate themselves from the competition. Otherwise, their products will be lost in a sea of other similar products.
The vast number of products available on RangeMe can sometimes lead to oversaturation, making it difficult for retail buyers to navigate the extensive range of options. Additionally, the platform's reliance on algorithms for product matching may not always capture the nuances and preferences of individual retail buyers. This can result in less accurate product recommendations and potential mismatches between suppliers and retailers.
Cost and Subscription Model
RangeMe operates on a subscription-based model, and suppliers must pay a fee to access its features. While this cost may be justifiable for larger businesses with established budgets, it can financially burden smaller suppliers and startups. Moreover, the subscription fee does not guarantee success or guarantee that retailers will select a supplier's products, which may deter some businesses from fully embracing the platform.
Limited Personalization and Relationship Building
As an online platform, RangeMe lacks the face-to-face interaction and personal touch that can be essential in establishing strong business relationships. While it facilitates initial connections, suppliers and retailers may miss out on the opportunity to build rapport and establish trust through in-person meetings or trade show interactions. This can be a drawback for businesses prioritizing relationship-building as a key component of their sourcing strategy.
Limited Customization Options
RangeMe provides a standardized template for creating product profiles, limiting the customization level suppliers can achieve. While the platform offers essential fields for product descriptions, images, and pricing, it may not fully accommodate every supplier's unique needs and branding. This lack of customization options can hinder suppliers from effectively showcasing their brand identity and differentiating their products from competitors.
No Money-back Guarantee
Unlike some other platforms or services that offer a refund if users are unsatisfied with their experience or if certain conditions are not met, RangeMe does not provide a formal money-back guarantee.
This means that if a supplier subscribes to RangeMe paid plan and decides they no longer wish to use the platform or are dissatisfied with the results, they may not be eligible for a refund of the subscription fee. The lack of a money-back guarantee can be a concern for businesses, especially smaller ones with limited budgets. It presents a financial risk without a refund assurance if the platform does not meet their expectations or deliver the desired outcomes.
---
.
Summary
Just like Kevin Costner's character, Ray Kinsella, in the movie "Field of Dreams" learned, opportunities happen when you take risks. Without understanding the actual meaning of the above-whispered quote, Ray built a baseball diamond in the middle of an Iowa cornfield. In the end, it brought closure to him and others, plus it essentially saved his farm. Since there is absolutely no downside to submitting brand and product information on RangeMe, suppliers who hope to expand their reach should probably take the time to create their online digital profile on their platform.
The decision to upgrade to premium services should be dependent on each company's particular situation and sales maturity. Obviously, the product category is an important factor since some industries such as Softline are not properly represented by participating retailers. RangeMe will NOT get you discovered on its own but it does provide useful tools to complement your sales and marketing outreach.