A barcode symbol is a way to convey data and is comprised of defined bar and space patterns. Although there are different types of barcodes, most people automatically think of a UPC when discussing barcodes. Each barcode language (aka symbology) has particular aspects which may benefit specific applications and industries. GS1 is the global standards agency that supports certain barcode languages and the administration of GS1 identification keys (Prefixes/GTINs). The retail industry adheres to the GS1 standards and has specified certain barcode types for each scanning environment.
If your company does not yet have UPC barcodes for your products, please visit www.barcode-us.com.
Retail POS (point-of-sale) Environment Scanning
UPC/EAN
In the United States, the most common barcode on retail products scanned at a point-of-sale scanner is the UPC barcode. The entire 12-digit numeric string is referred to as a GTIN-12. Smaller companies with just a few items can license full 12-digit GTINs from the local GS1 office.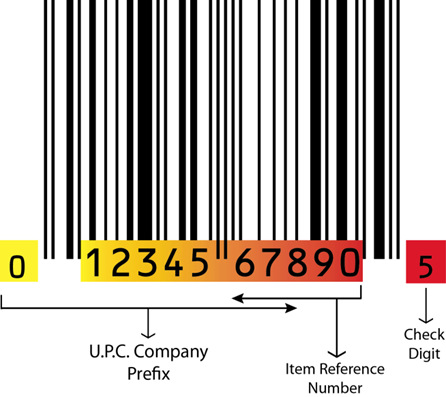 UPC standards for "universal product code" and the meaning infers that it can be read on every scanner around the globe. Companies from countries outside of the US use a very similar 13-digit GTIN barcode called EAN-13. The mechanics of the barcode are identical to the UPC so every store in the US can now also read EAN barcodes.
GS1 Databar (formerly Reduced Space Symbology)
In 2011, GS1 ratified a new standard to address spacing constraints for point-of-sale scanning. The GS1 DataBar can carry all 14 digits of a manufacturer's GTIN and is more than 50% smaller than the currently used UPC and EAN symbols. This makes it particularly useful for identifying small/hard-to-mark items such as produce and pharmaceutical items. Additionally, the GS1 DataBar symbol can carry GS1 Application Identifiers which allow additional information such as serial numbers, lot numbers, and expiration dates to be encoded. GS1 Databar barcodes are made up of a few different formats. The two most common applications used in US retail scanning are for produce and coupon barcodes.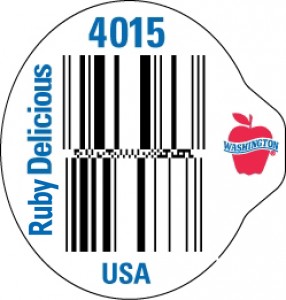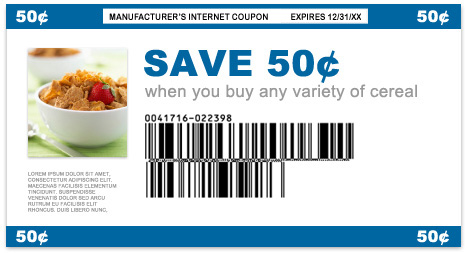 ---
General Distribution – ITF-14
The ITF-14 barcode symbology is used for industries dealing with standard pack configurations, such as food and hardware. These barcodes typically encode the entire 14-digit GTIN. These barcodes are usually found directly printed on corrugated boxes but can also be printed on labels.

Most retail organizations today require the ITF-14 barcode symbol for the carton marking for scanning in logistic environments. ITF-14 cannot normally be read by pos scanners.
Distribution Environments: GS1-128
The GS1-128 barcode (data carrier) was developed to provide a global standard for exchanging data between different companies. GS1-128 not only encodes the data, but also provides a way of defining the meaning of the data by defining a list of "Application Identifiers" (AI's).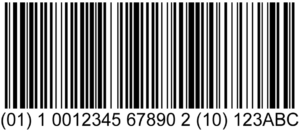 The GS1-128 barcode shipping label is used for carton visibility throughout the shipping chain and is used by most major retailers. It is very common for multiple GS1-128 barcodes to be included on a label. These labels commonly accompany 856 Advance Ship Notices in EDI environments. To learn more information about the GS1-128 shipping label, please see GS1-128 Shipping Label.
Please visit our educational website at https://www.gs1-128.info, which exclusively details GS1-128 barcodes.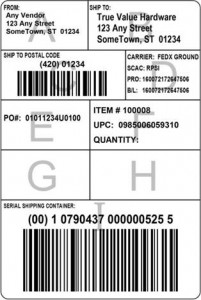 ---